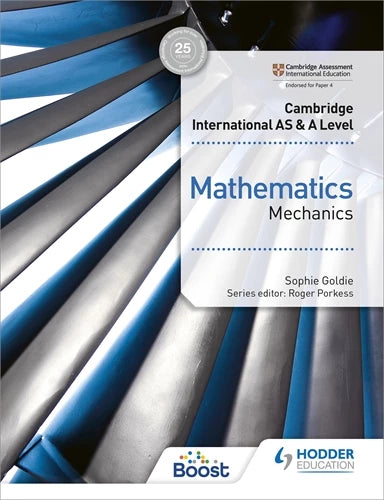 Cambridge International AS & A Level Mathematics Mechanics
Translation missing: en.products.product.price.regular_price
$33.00 USD
Translation missing: en.products.product.price.sale_price
$33.00 USD
Translation missing: en.products.product.price.regular_price
Product Details
Additional info
Endorsed by Cambridge Assessment International Education to provide full support for Paper 4 of the syllabus for examination from 2020.
Take mathematical understanding to the next level with this accessible series, written by experienced authors, examiners and teachers.
- Improve confidence as a mathematician with clear explanations, worked examples, diverse activities and engaging discussion points.
- Advance problem-solving, interpretation and communication skills through a wealth of questions that promote higher-order thinking.
- Prepare for further study or life beyond the classroom by applying mathematics to other subjects and modelling real-world situations.
- Reinforce learning with opportunities for digital practice via links to the Mathematics in Education and Industry's (MEI) Integral platform in the Boost eBook.*
*To have full access to the eBook and Integral resources you must be subscribed to both Boost and Integral. To trial our eBooks and/or subscribe to Boost, visit: www.hoddereducation.com/Boost; to view samples of the Integral resources and/or subscribe to Integral, visit integralmaths.org/international
Please note that the Integral resources have not been through the Cambridge International endorsement process.
This book covers the syllabus content for Mechanics, including forces and equilibrium, kinematics of motion in a straight line, momentum, Newton's laws of motion, and energy, work and power.
Author: Sophie Goldie
Curriculum: Cambridge International Education
Dimension: 7.83 x 0.43 x 9.8 inches
Edition: Student Edition
Format: Paperback
Isbn 10: 1510421742
Language: English
Pages: 232 pages
Release date: 29/03/2018
Year: 2018