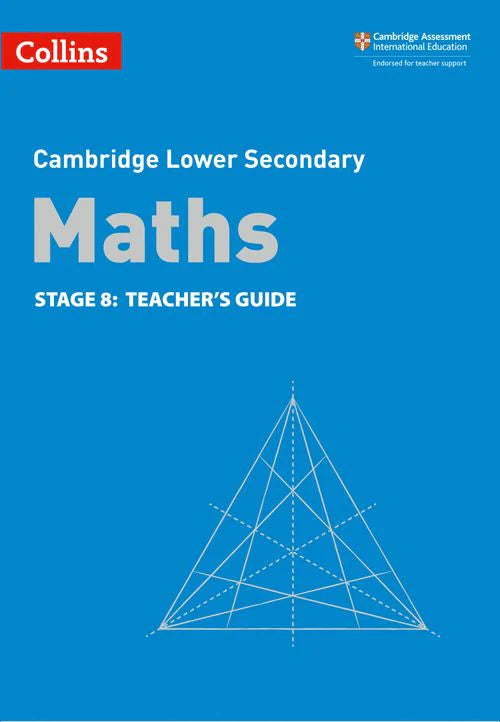 Cambridge Lower Secondary Maths Teacher's Guides Teachers Guide: Stage 8 2nd edition
Translation missing: en.products.product.price.regular_price
$149.00 USD
Translation missing: en.products.product.price.sale_price
$149.00 USD
Translation missing: en.products.product.price.regular_price
Product Details
Additional info
Inspire and engage your students with this fully updated Lower Secondary Maths course from Collins offering comprehensive coverage of the curriculum framework and Thinking and Working Mathematically skills. Written by an experienced team, each Stage (7–9) comprises a comprehensive Student's Book, extensive Workbook and supportive Teacher's Guide.
Designed to be used alongside the Stage 8 Student's Book and Workbook, this comprehensive Teacher's Guide is a highly flexible resource which provides teachers with teaching and learning support to deliver the curriculum. Informed by the latest expert research in mathematics education, and show-casing best practice teaching methods, this resource fully supports the integration of the Cambridge 'Thinking and Working Mathematically' characteristics into the learning of mathematics.
Features include:
• clear mapping of coverage of the learning objectives throughout the course, helping you effectively plan your teaching
• guidance on promoting and assessing the Cambridge Thinking and Working Mathematically characteristics through the course
• ideas for starter activities and discussions
• notes on common errors and misconceptions
• support and extension ideas
• technology recommendations, investigations and research tasks
• end-of-chapter Topic Reviews, to review and assess progress.
Provides teacher support as part of a set of resources for the Cambridge Lower Secondary Mathematics curriculum framework (0862) from 2020.
This series is endorsed by Cambridge Assessment International Education to support the new curriculum framework 0862 from 2020.
Author: Belle Cottingham, Alastair Duncombe, Rob Ellis, Amanda George and Brian Speed
Curriculum: Cambridge International Education
Dimension: 8.27 x 0.98 x 11.69 inches
Edition: 2nd Edition
Format: Paperback
Isbn 10: 0008378606
Language: English
Pages: 480 pages
Release date: May 1, 2021
Year: 2021