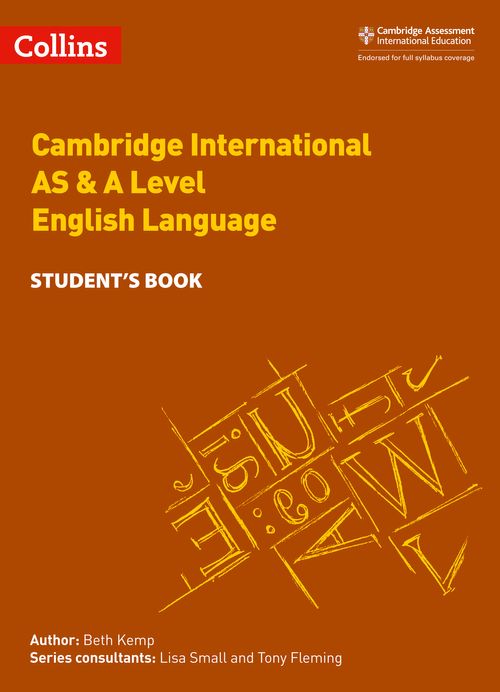 Cambridge International AS & A Level English Language Student's Book
Translation missing: en.products.product.price.regular_price
$35.00 USD
Translation missing: en.products.product.price.sale_price
$35.00 USD
Translation missing: en.products.product.price.regular_price
Product Details
Additional info
Supports the transition from upper secondary: Section A refreshes students' understanding of key concepts such as audience, purpose and form, and of elements of language including sentences and clauses.
Builds writing and analysis skills for AS and A Level: Section B introduces students to different modes of analysis, including contextual, pragmatic, lexical, semantic, grammatical and phonological approaches, and familiarises students with the conventions of different writing forms and purposes.
Explores the syllabus topics in depth: Section C offers a dedicated chapter on each language topic, exploring the relevant linguistic theories and helping students to apply these ideas in their own arguments and analysis of texts, transcripts and data.
Helps students apply their knowledge and skills to extended tasks: Section D offers step-by-step support for responding to a range of tasks with sample responses at different levels to help students understand how to improve.
Builds confidence for examinations with complete exam-style practice papers in Section E.
Encourages an active approach to learning: throughout the book, a wealth of activities ask students to discuss, analyse and apply the ideas they are learning about, and to experiment with different techniques in their own writing.
A rich variety of texts from around the world provide exciting models for students' writing, engaging examples to analyse, and stimulus for debates about language change, language acquisition, the relationship between language and identity and the nature of Global English.
Full provision for all abilities: an accessible writing style, step-by-step support and clear Key terms definitions build confidence, while Taking it further activities offer additional challenge.
Supports teachers through the free, editable medium-term plans available on Collins.co.uk. These clearly map content to the syllabus and summarise what is covered in each unit of the book. Answers to activities in the Student's Book are included to assist those teaching English Language for the first time.
Author: Beth Kemp, Consultant editor Tony Fleming and Lisa Small
Curriculum: Cambridge International Education
Dimension: 7.5 x 0.5 x 10.5 inches
Edition: Student Edition
Format: Paperback
Isbn 10: 0008287600
Language: English
Pages: 300 pages
Release date: June 20, 2019
Year: 2019