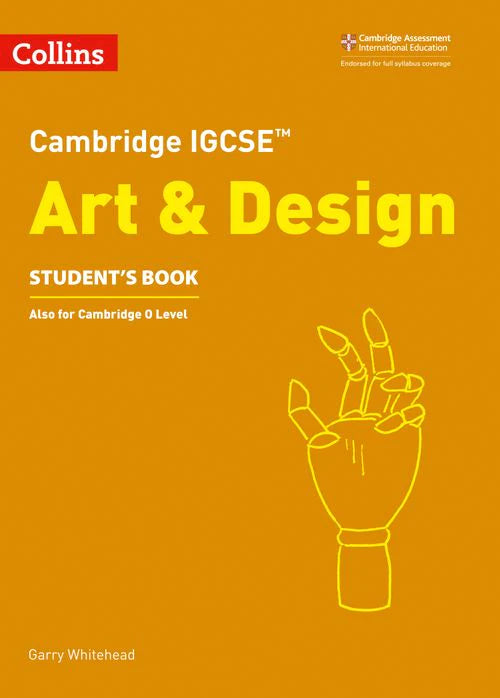 Cambridge IGCSE Art & Design Student's Book
Translation missing: en.products.product.price.regular_price
$38.00 USD
Translation missing: en.products.product.price.sale_price
$38.00 USD
Translation missing: en.products.product.price.regular_price
Product Details
Additional info
Prepare your students for the new Cambridge IGCSE® Art and Design syllabus with the only title available on the market. The book gives detailed information on the key disciplines of Art and Design and builds confidence in practical skills and creative expression.
The only book on the market with full coverage of the Cambridge International IGCSE Art and Design Syllabus 0400 and Cambridge O level syllabus for Art and Design for first examination from June 2019
Promotes understanding of the key stages of the creative process from the development of a project from the beginning to the final outcome, and gives detailed information on all the key disciplines: Painting and related media, Printmaking, Three-dimensional studies, Photography, Graphic communication and Textile design
Developed by an experienced team of teachers and practitioners
Activities throughout improve students' practical skills
Materials, references and examples are taken from a wide range of contexts making this a truly international coursebook
Complete language support with key terms highlighted and definitions provided
Tips throughout to help students improve their work, highlighting useful skills and areas to consider or observe
Reflective log boxes after each topic for students to consider which objectives they have mastered and how they can take their learning further
Knowledge check boxes throughout promote reflective practice in students
Artist with Impact sections introduce students to an expert in the field in all key disciplines
Student case studies show a wealth of examples taken from different students' coursework around the globe so that students can learn from real-life examples
Suggestions for additional research to take students' learning further
Glossaries of key terms
Collins is working with Cambridge International Examinations towards endorsement of this title.
IGCSE is the registered trademark of Cambridge International Examinations
Curriculum: Cambridge International Education
Dimension: 0.5 x 7.5 x 10.5 inches
Format: Paperback
Isbn 10: 0008250960
Language: English
Pages: 302 pages
Release date: June 1, 2018
Year: 2018